HIV MINISTRY
HELPING
I

NNOCENT

V

ICTIMS
---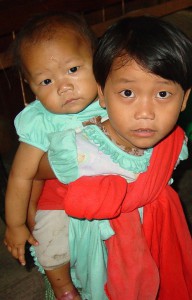 "I the LORD thy God am a jealous God, visiting the iniquity of the fathers upon the children unto the third and fourth generation.." Deuteronomy 5:9-10 (K J V)
HIV-AIDS is an ever-growing problem in Cambodia. There are tens of thousands of mothers and children who are innocent victims. As mentioned in the above Bible verse, the father's sin has been passed down first to his wife and then to the children who are born infected. Because of the community's fear of AIDS, the mothers and children are shunned; often, the children are not accepted in schools or other social activities. They are as modern-day lepers.
We here at New Life Orphanages realize we cannot solve or stop the moral problem that has brought this crisis about, but we are determined to HELP INNOCENT VICTIMS.
PLEASE CONSIDER HELPING US TO HELP THEM.
The Ashira Adonijah HIV Center and Orphanage needs your help and prayers. We have constructed the permanent center where mothers and children will call our clean, healthy environment their home. Please see the short power point pictures of what is being done. Thank you and God bless you.
Please use arrows on player to advance to next slide or to view previous slides…